Digital Audio Fit-For-Purpose Creative: Choosi and IAB Audio Council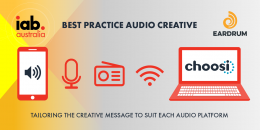 There's no one-size-fits all approach to audio. Each audio platform is consumed in a different way and has its own nuances which need to be considered. Just like you wouldn't put a long copy print ad on a billboard, you shouldn't simply put your radio ad in a podcast, for example.
The creative message needs to be tailored to suit each medium to ensure relevancy and impact. Working with insurance comapny Choosi, the IAB Audio Council, led by Eardrum in the project, set about creating best practice, fit-for-purpose audio campaigns for each audio platform.
Related Information:
Disciplines

Insights

Markets

Region

Year