Member Directory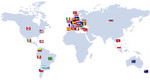 IAB offices can be found in various parts of the world: there are now over 40 IABs worldwide. We encourage you to visit their sites, find out what they have on their agendas, and pursue membership opportunities wherever you or your company is doing business as all IABs operate independently and no international membership is available at this stage.
There's no other media company in Australia that offers the breadth of brands that speak to all women like Bauer Media. We are Australia's leading multi-platform publisher, creating meaningful brand connections with Australian women through magazines, digital and live experiences. BY WOMEN FOR WOMEN
Ipsos is an independent market research company controlled and managed by research professionals. Founded in France in 1975, Ipsos has grown into a worldwide research group with a strong presence in all key markets. Ipsos launched in Australia in 1999 and is headquartered in Sydney, with offices in Melbourne, Perth and Brisbane. Ipsos ranks third in the global research industry. With offices in 86 countries, Ipsos delivers insightful expertise across six research specialisations: advertising, customer loyalty, marketing, media, public affairs research, and survey management.