Member Directory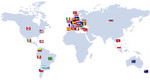 IAB offices can be found in various parts of the world: there are now over 40 IABs worldwide. We encourage you to visit their sites, find out what they have on their agendas, and pursue membership opportunities wherever you or your company is doing business as all IABs operate independently and no international membership is available at this stage.

One of the world's largest chocolate producers, Ferrero makes treats such as Rocher chocolates and its original product -- the chocolate-hazelnut spread Nutella
Paykel Media Company is an agency committed to delivering growth to our client's business. Whether it is launching new products or delivering successful brand growth we understand that a clients success is our success.