Qantas Points Destination - THE CLIENT CHALLENGE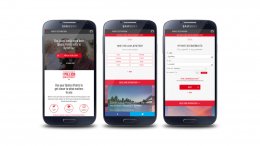 Qantas Loyalty runs the country's largest and most successful loyalty program, Qantas Frequent Flyer (QFF). The program has 11 million+ members and an array of ways to earn points with Qantas and partners that can be redeemed in a multitude of ways from flights and upgrades to over 3,000 products. Qantas Frequent Flyer (QFF) identified a section of their members who had the potential to be more active in their program. They rarely flew and weren't engaged with earning points across the breadth of the program.
Our task was to re-engage these members and get them earning points again. We also had to increase earn rates with partner companies to stimulate spend on their products and offerings.
THE STRATEGY
WiTH Collective partnered with Qantas Loyalty to create a campaign focused on driving an emotional connection for members with the program and build an emotional value into a Qantas Point. We sourced data-driven profiles and behavioral data directly from Qantas and ran lean customer research and customer experience sessions to get to the core of the issue.
Our research lead to the insight that in order to build and retain loyalty, Qantas needed to communicate the earn potential that these members had within their everyday spending, build the value in the Qantas Point and drive an emotional connection to their brand and rewards
THE SOLUTION 

QFF had the unmatched ability to create something unparalleled in terms of flight-based rewards, a human connection or valuable memory that was personal to each member. Our focus was helping people discover ways to earn more points so they could do the things in life that mattered to them.
We developed a digitally-led campaign, focused on emotional story telling, supported by educational messaging. The result was a multi-device digital experience, with video content that built an emotional connection by showing members the types of experiences they could use their Qantas points for. We built the site to personalise the user experience via a bespoke API that connected the QFF database in real-time. We asked members to nominate
their own personal Points Destination Goal – which was a trip or holiday with a nominated friend or loved one, and then calculate how many points they needed to get there. People could explore destinations in the network and learn how they could earn points with new partners. We also built in social functionality that let users share their chosen Points Destination Goals with friends. 
Media was mainly owned and earned channels (eCRM base, digital merchandising across Qantas digital assets, Facebook VDO posts, YouTube pre-rolls, Instagram posts and blogger content), supplemented by a small investment in paid media. 

We also built an exhaustive comprehensive segment focused, data driven, trigger- based eCRM program and customer lifecycle journey that recognised member behaviour's as they earn points in new ways and get closer to their points destination goals.
THE RESULTS
The campaign achieved its objective of creating an emotional connection between members and their points – fuelled by strong owned and earned support.
• 45% member conversion
• Almost 40% of goals achieved in the first 24 hours
• More than 10% of members have achieved their goal
• Exceeded goals objective by 28%
• 99% of conversions from owned and earned media
The business impact was so big, it's now part of Qantas' business as usual marketing activity.


Links:
Related Information:
Disciplines

Insights

Agency

Case Study