GAME OF BALLS
Published on
Thursday, 12 May 2016
in the category
Case Studies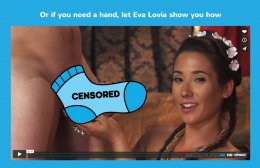 SITUATION:
Testicular cancer is the number 1 cancer in young men. It's a subject men like to avoid - even though it could save their life: it's 97% curable when detected early. Luckily, we knew where we could reach them...
SOLUTION:
For the first time ever, an actual *CENSORED*o was interrupted by a public health message.
We partnered with Digital Playground, one of the biggest adult film studios, to be part of their biggest release of the year, a tribute to the world's biggest TV show...
In the middle of the action, our *CENSORED* star stopped, turned to the viewer, and taught him how to check himself - demonstrating on her co-star's privates.
And because Australian men are 21% more likely to get testicular cancer than the world average, we directed men to the Blue Ball Foundation, an Australian awareness charity.
RESULTS:
We literally caught men with their pants down. Our message spread organically across the net, with 1.5+ million views in 4 weeks, 2.5+ million in 6 weeks. And now, 3+ million and counting...
GAME OF BALLS is now one of the most-watched films on the *CENSORED*web.
As we hoped, the global awareness has filtered through to Australia.
And it's still saving lives, the world over.
| | |
| --- | --- |
| Creative Agency | M&C Saatchi |
| Contributing Agency | M&C SAATCHI & BANG PR |
| Campaign Types | |
| Live Date | 12 Apr 2015 - 12 Jul 2015 |
| Contact: | bryerj@mcsaatchi.com.au |