You Create - Sims
Published on
Thursday, 12 May 2016
in the category
Case Studies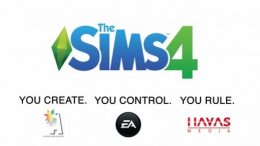 Let's face it everyone used to love building their own Sims according to how you wanted them to look like and the way you wanted them to act. Just imagine bringing your Sims you created into the real world, well SCA decided to do just that with the Hit Network audience. The Sims 4 game was brought to life through life a real life 'The Sims' environment complete with different obstacles, options and people. 2DayFM station's Facebook Profile live streamed the ultimate The Sims 4 virtual event.

National Hit 30 host Angus O'Loughlin brought the Sims to life as the voice and face of the campaign along with The Sims Vlogger and high profile gamer Deligracy and Havas Media to create the campaign You Create. You Control. You Rule.
There were a number of elements to the campaign but SCA leveraged 2Day Hit 104.1's social community and on air talent to create major awareness and impact surrounding The Sims 4.
Campaign elements included:
- Event pre- promotion with a Hit 30 interview between Angus and Deligracy. Both Angus and Deligracy
promoted their appearance through their social media channels, as did 2DayFM.
- Facebook Live Stream where Angus and Deligracy co-hosted an epic event at a Western Sydney
University where a real life Sim's environment was created. The power was in the hands of the
2DayFM social community who were able to control Angus as their very own Sim for the chance to
win great prizes. We had a huge amount of engagement on the day, with over 112,000 people
participating live with many more watching after it was live.
- Display elements also complemented the campaign with Desktop Leaderboards, M-Recs, Mobile
OTPs, Mobile Leaderboards and Mobile M-Recs.
- A wrap up video was also hosted on the 2DayFM Facebook & Twitter pages to showcase the
activation.
A 298% return on investment was delivered throughout the campaign and more than 350,000 fans via Facebook Live were reached with the tailored content delivered on the platform.
Related Information:
Disciplines

Insights

Markets

Year

Agency

Case Study