Circul8 wins Creative Showcase 8.5 with "Tinder Takeover" campaign
Round: 8.5 Place Awarded: Winner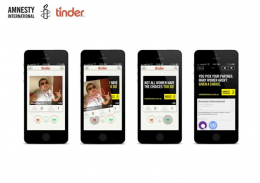 Circul8's empowering and unexpected campaign, Tinder Takeover, has been named the winner of IAB Australia's Creative Showcase 8.5. Havas Worldwide SYD snared second place with its ingenious campaign The eBay Xmas Gift Engine; and M&C Saatchi was awarded third place with The Battle of the Bridge campaign.

Mike Zeederberg, Managing Director of Zuni and Creative Showcase's Chair of Judges said "Social media is well and truly part of the marketing fabric in Australia with Tinder, Twitter and Facebook featuring in this round's three winners. The agencies all used social media in interesting ways to engage their audience and create brand interaction."

Circul8's winning campaign delivered an important message for International Women's Day by creating a Tinder profile to raise awareness that many women around the world don't have the same choices that those on Tinder do. When women logged on to Tinder, they saw profile pictures displaying hard hitting messages, each directing them to the Amnesty International's campaign, and they were effectively engaged to make a choice and stand up for women who don't have the same power.
The campaign was a world first, and a clever way to bring up such an important issue at the right time and on an extremely popular social app. Its successful delivery reached both national and international headlines, as well as several industry blogs.
Havas Worldwide Sydney's ingenious eBay Xmas Gift Engine campaign transformed the way we shopped at Christmas time. With Christmas being the busiest time of the year, Havas Worldwide SYD worked with eBay to change the search algorithm from an 'items' search to an 'interests' search. They also created an innovative Facebook app that used the new algorithm, coupled up with a user's Facebook likes to translate the information gathered into great gift ideas.
M&C Saatchi's The Battle of the Bridge campaign fuelled new levels of rivalry between the two Sydney AFL clubs. In order to promote the special Derby round between the GWS Giants and the Sydney Swans, each club's fans were invited to participate in a social battle on Twitter. To win the battle for territory, each Club's fans had to tweet using unique club hashtags, which would then appear live on the campaign's website, showing who the tweet was sent from and who it was in support of on a map of the greater Sydney. The Club with the most tweets was then selected as the winner of this fierce fans battle.

The bi-monthly IAB Creative Showcase competition series, which is sponsored by Innovid, accepts entries for work completed in the two months prior to close of judging for each round and only one campaign per agency is allowed. The winning entries are showcased at http://iabaustralia.com.au/Creative/Creative_Showcase.aspx.

The Creative Showcase competition is free and easy to enter - entrants simply register and submit the campaign online at www.creativeshowcase.net.au.

8.5 Creative Showcase Winners

Winner: Tinder Takeover
Creative Agency: Circul8
Brand Name: Amnesty International
Campaign Overview: http://www.makethechoice.com.au/

Second Place: The eBay Xmas Gift Engine
Creative Agency: Havas Worldwide SYD
Brand Name: eBay
Campaign Overview: http://ebaygiftengine.com.au/
Third Place: The Battle of the Bridge
Creative Agency: M&C Saatchi
Brand Name: The Greater Western Sydney Giants
Campaign Overview: http://battleofthebridge.com.au/
Related Information:
Disciplines

Insights

Markets

Year