Creative & Awards

This Month
Creative Showcase Round 11.2 Competition Results
Sound Storm - The game that rewires the brain to listen
Children suffering Spatial Processing Disorder struggle to use auditory cues to selectively focus on sounds coming from one location while suppressing noise distractions around them, such as focusing on a teacher in a noisy classroom.

Untreated, SPD can interfere with learning and development.

Remediation requires daily engagement with training software over a 10 week period. The National Acoustic Laboratory (NAL) engaged us to explore and develop a solution that used auditory algorithms to cure children of SPD while engaging and supporting them through the remediation process.

Sound Storm is an iPad auditory training game that plays to 6-12-year-olds short and long term motivators in exploration, play and narrative. The product is a layered solution of games and rewards within a narrative presented through the eyes of a central character, Suno. The story of Suno the lion mirrors the child's own journey of self-improvement and perseverance, while providing motivation and support within the game play.

Studies have shown that 100% of SPD affected children completing the remediation program are cured of the disorder.

| | |
| --- | --- |
| Creative Agency | Deepend |
| Contributing Agency | Nomad |
| Campaign Types | |
| Live Date | 15 Jan 2016 - 27 Oct 2016 |
| Contact: | Nitin.Mistry@deepend.com.au |
The Teleporter Adventures Overview
The Teleporter Adventures is a storybook and companion VR experience. It was designed bring Start Smart financial lessons to life in a fun and engaging way.

Start Smart is a free financial education program funded by CommBank and offered to more than 550,000 students in Australia each year. Our brief was to make these award-winning classes more accessible in remote areas of Australia, and create a new, more engaging way for kids to learn about finance.

The book makes use of 'The Teleporter', a Start Smart branded, Google cardboard VR headset that teleports the kids into the different worlds within the storybook.

The first book, aimed at 6-7 year olds follows the story of Sammy the Space Koala, a koala who travels through the galaxy in search of a magical present for her Grandma's birthday. Throughout the journey kids are invited to participate in virtual reality experiences, learning important lessons around financial 'needs' and 'wants'. Taken directly from the Start Smart curriculum.
Links:
| | |
| --- | --- |
| Creative Agency | M&C Saatchi |
| Contributing Agency | M&C Saatchi Sydney |
| Campaign Types | |
| Live Date | 03 Oct 2016 - 02 Feb 2017 |
| Contact: | dani.simonds@mcsaatchi.com.au |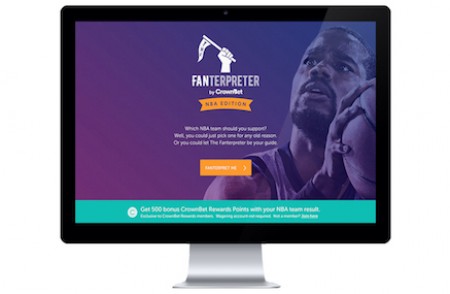 CrownBet Fanterpreter: NBA Edition
CrownBet needed to drive growth in one of the most competitive markets in advertising- sports betting.

Our strategy was to create a passionate betting market beyond over-exploited core Australian sports, with a solution that would connect Aussie sports fans to the emerging popularity of the NBA down under.

The idea was the Fanterpreter- a data-driven microsite that uses sporting data to match Aussies with their perfect NBA team.

Fanterpreter feeds 770 live data points from AFL, NRL, and NBA clubs into a stat-matching algorithm, pulling in 380 unique copy points to generate one of 1,028 possible team matches.

So far, the campaign has:

- Generated an ROI of $16 revenue for every $1 spent- comms included.
- Generated over 20,000 bets at a cost of less than $0.40 per bet.
- Driven an average social cost per click of $0.69, CrownBet's lowest ever for a social campaign.
- Contributed towards an overall 350% increase YOY on traffic to CrownBet NBA betting pages.

Links: