2010 IAB Awards | Full List of Winners
Published on
Friday, 23 July 2010
in the category
IAB Awards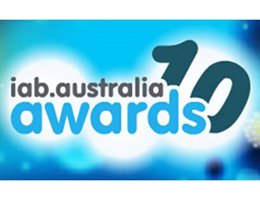 View the case studies of the 2010 IAB Award Winners here

Sydney - 23 July, 2010 – ZenithOptimedia has been crowned 2010 IAB Awards Best of Show for its Lion Nathan "Tooheys Extra Dry - Six Beers of Separation" campaign. Announced at the IAB Awards ceremony last night, the campaign won the new Branded Content category and trumped a record number of entries to scoop the prestigious Best of Show title and secure its entry into the 2010 US IAB MIXX Awards.

Other IAB Award winners include Publicis Mojo Melbourne and Soap Creative who each secured two category wins (respectively Brand Destination Site; Cross Platform Integration; and Product Launch; Rich media and Digital Video). Publicis Mojo and Virgin Mobile picked up the Brand Loyalty and Retention Award for their Virgin Mobile "Member's Lounge" campaign; and FNUKY secured the first ever Not-for-Profit / Public Service Award for its GetUp! "Censordyne" campaign. Other category awards were won by Mediacom, WHYBIN/TBWA/TEQUILA, Experian Hitwise and Leo Burnett.

Holler picked up the Creative Showcase Grand Prix award for its Lion Nathan "Beck's ÜBERSELEKTOR" campaign. Finalists in this category were Creative Showcase winners from quarterly 2009/2010 competitions and included Clemenger, Soap Creative and Visual Jazz.

According to Paul Fisher, CEO of IAB Australia, 2010 has been an exciting year for the IAB Awards:
"This year's IAB Award winners have displayed an outstanding level of creativity and delivered some of the highest quality submissions in the history of the Awards. All of the entrants should be congratulated on their efforts.

"The record number of entries this year is a reflection of the strong growth in digital and interactive advertising in this market. Representing a total of 133 brands, the IAB Award entries clearly demonstrate Australian agencies are not only creating incredibly effective interactive campaigns, but are proud to promote their world-leading achievements," said Mr Fisher.

Mark Uncles, Professor of Marketing at the University of New South Wales and Chair of Judges for the 2010 IAB Australia Awards commented: "If there was ever any doubt, digital and interactive advertising truly has come of age. The 2010 winning entries clearly demonstrate that online advertising has been fully embraced. Many of Australia's biggest mainstream advertisers have had text book success using online to excellent effect, while we also saw creative as 'out there' as the Censordyne campaign.

"Key to this coming of age, are campaigns that engage consumers in the longer term. This is essential if advertising is to build brands and not simply secure immediate promotional benefits. The Best in Show campaign is exemplary in these respects. It makes use of multiple platforms to deliver an insightful and witty message and to build significantly Tooheys Extra Dry as a strong brand," said Professor Uncles.

ZenithOptimedia's Best of Show winning entry has now qualified for entry to the US MIXX 2010 Awardswhich will be judged on 28 September 2010 in New York. Previous IAB Australia Best of Show winners have had remarkable success in the MIXX Awards, with the 2009 entry winning MIXX's Best in Show and the 2008 entry taking home a silver award.
2010 IAB Awards Winners

Category: Branded Content AND Best of Show
ZenithOptimedia for Lion Nathan - Tooheys Extra Dry - Six Beers of Separation
Creative Agencies: BMF, Holler
http://www.6beersofseparation.com.au/

Category: Brand Awareness and Positioning
Mediacom for Dell - Alienware Clan Challenge
Event Production & Filming: TCO
http://www.youtube.com/watch?v=0XVN1AvEaCk|http://www.alienwarearena.com.au

Category: Direct Response and Lead Generation
WHYBIN/TBWA/TEQUILA for Nissan Australia - Take the Wheel
http://takethewheel.nissan.com.au/

Category: Product Launch
Soap Creative for Unilever Australia - LYNX Party Across the Internet
Media Agency: Universal McCann
http://www.partyacrosstheinternet.com/

Category: Brand Loyalty and Retention
Publicis Mojo and Virgin Mobile for Virgin Mobile – Member's Lounge
Mobile Offer Redemption Platform: Figitt
Mobile Developers: MIA
Developers: Cactuslab
http://memberslounge.com.au

Category: Brand Destination Site
Publicis Mojo Melbourne for Cadbury - The Adventures of Freddo
www.freddo.com.au

Category: Cross-Platform Integration
Publicis Mojo Melbourne for Tourism Victoria - The Art of Walking
Production Company: @RADICAL.media
www.theartofwalking.com.au

Category: Search Marketing
Experian Hitwise for Southern Cross Travel Insurance - SCTI Online Offline Integration

Category: Social Media Marketing
Leo Burnett for Canon - Canon EOS Photochains
www.canon.com.au/worldofeos/photochains/

Category: Rich Media and Digital Video
Soap Creative for Unilever Australia - LYNX Party Across the Internet
Media Agency: Universal McCann
www.partyacrosstheinternet.com/

Category: Not for Profit / Public Service
FNUKY for GetUp! - Censordyne
http://censordyne.com/

Category: Creative Showcase Grand Prix
Holler for Lion Nathan - Beck's ÜBERSELEKTOR
Media Agency: ZenithOptimedia
www.uberselektor.com.au/


/Ends


Notes to Editor
Images from each of the Finalists' campaigns are available. Please contact Einsteinz Communications for more details.

About the Interactive Advertising Bureau
The Interactive Advertising Bureau (IAB) is the peak trade association for online advertising in Australia. As one of over 25 IAB offices globally, and with a rapidly growing membership, IAB Australia's principal objective is to increase the share of advertising and marketing dollars that interactive media captures in the marketplace.

Officially launched in October 2005 by Australia's six major online publishers - News Digital Media, Fairfax Digital, ninemsn, Yahoo!7, Google and Sensis Media Smart - together with the Australian Interactive Media Industry Association (AIMIA), the IAB has four objectives:
• To develop, coordinate and promote industry standards and guidelines that make interactive advertising a simpler and more attractive medium for agencies, advertisers and marketers
• To prove and promote the effectiveness of interactive advertising to advertisers, agencies, marketers, and the press
• To be the primary advocate for the interactive marketing and advertising industry
• To expand the breadth and depth of IAB membership while increasing direct value to members

For further information about IAB Australia please visit: www.iabaustralia.com.au
For more editorial information please contact:
Pru Quinlan or Ashleigh Favaloro
Einsteinz Communications
T: (02) 8905 0995
E: pru@einsteinz.com.au
E: ashleigh@einsteinz.com.au