IAB MeasureUp 2018
Four Seasons Hotel, 199 George St, Sydney NSW 2000
Tuesday, 23 October 2018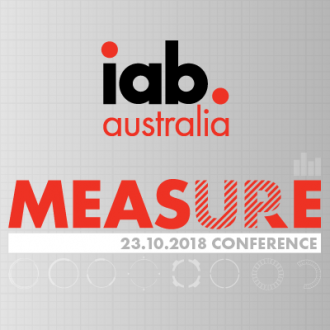 With the advent of digital advertising, measurement has become an incredibly hot topic. Whether it's the revenue component, the audience measurement, the challenge of ROI, measurement across media or measurement of the digital value chain, it's never been a more critical for the industry. So, hold the date for Tuesday 23rd October, as IAB Australia will be hosting the MeasureUp conference at Four Seasons Hotel in Sydney.
As the body at the head of independent digital measurement, the IAB is again bringing together the smartest local and overseas brains on the topic to shed light and provide perspective. The MeasureUp conference will be split into two streams: measurement science and marketing outcomes interspersed with meaningful keynotes and panels to help shape measurement application in Australia for the next twelve months and beyond.

The event will be attended by over 300 of the key leaders in digital measurement, analytics and marketing effectiveness. Submissions are now open until 31st May for smart and engaging speakers, sessions or workshops. To submit content ideas for MeasureUp 2018 or for more information, click here.