MeasureUp 2019
PwC Australia
Tuesday, 29 October 2019
All day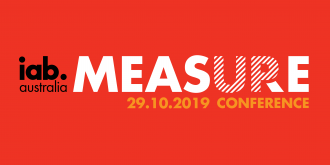 HOLD THE DATE
On Tuesday October 29, 2019, IAB Australia will hold its annual measurement conference, MeasureUp, at PwC Barangaroo, Sydney.

As digital advertising investment has increased to represent over half of the total ad market in Australia, accurately measuring its impact is more important than ever. The MeasureUp conference, the only measurement focussed conference in Australia, will provide insight into both marketing outcomes and the science of measurement.


At this full day immersion you will hear local and international speakers discussing ways of measuring both the opportunities available for advertisers and the impact of their investments. Whether its cross-platform measurement, the challenge of marketing ROI, the power in long-term brand building, optimising digital advertising strategies or the importance of data and privacy in measurement, MeasureUP covers the most critical topics for the industry. As the body at the heart of independent measurement, the IAB is bringing together the smartest brains to present, debate, shed light and provide perspective.

MeasureUP also provides the opportunity to network with over 200 marketing, media and measurement professionals from a mix of publisher, ad agency, ad tech, research vendor and advertiser companies.

How do you and your business MeasureUp?

Agenda and more information coming soon.
---
A quick look at MeasureUp 2018