Podcasting Measurement Technical Guidelines – Open For Comment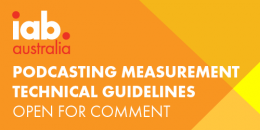 The IAB Australia Audio Council is currently reviewing Version 2 of the IAB US IAB Podcast Measurement Technical Guidelines released in late December 2017 and assessing suitability for endorsement in the Australian market. The previous version of the Guidelines was endorsed by IAB Australia in November 2016.
The new guidelines build on Version 1 and provide a recommended processes for generating audience and downloading metrics, with details on:
Filtering for uniqueness

Filtering for uniqueness

Eliminating pre-load requests

Eliminating potential bots and bogus requests

Applying thresholds for what gets counted
As the recent Audio Advertising: State of The Nation research product by the IAB Australia Audio Council found the level of interest in podcasting advertising has tripled in the last twelve months however the industry is still wanting further clarification on measurement and effectiveness metrics when using podcasts to help give confidence to further investment.
We invite IAB Australia members and others in the podcasting industry to review the latest US guidelines and provide feedback to the IAB by 24th April 2018. The Audio Council will then review all feedback and release local guidance and guidelines shortly thereafter.
All feedback on the current US guidelines and questions should be sent to gai@iabaustralia.com.au
The IAB Australia Audio Council has representation from the following organisations: ABC, ARN, Commercial Radio Australia, Eardrum, Macquarie Media, Nova, Omny Southern Cross Austereo, Spotify, The Trade Desk, Triton