Video Ad Serving Template (VAST) 3.0 Guidelines 2013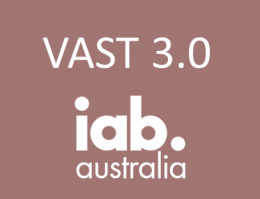 This Video Ad Serving Template (VAST) includes a standard XML-based ad response for in-stream video as well as an XML Schema Definition (XSD) for developers. It is meant to accommodate the majority of current practices within the online digital video advertising business.
VAST is designed for any on-demand video player where the ad response is parsed prior to play. For example, use of this standard would be appropriate within an Adobe Flash player if the ad response was requested and parsed in ActionScript but would not be appropriate if contained directly within a SMIL playlist directly sent to the player. It may be possible to use this XML format for applications other than on-demand viewing such as live video streaming, downloadable video players, set-top boxes, etc, but those applications are explicitly beyond the scope of the current effort.
Related Information:
Disciplines

Insights

Markets

Region

Year

Guideline