Online advertising reaches $2.455b for 2011 financial year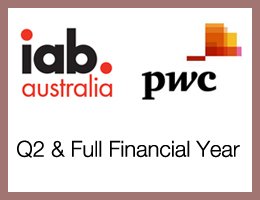 15 August, 2011 - The Australian online advertising market is on track to surpass $3b in 2012, with the online advertising expenditure for the 2011 financial year growing 20 percent year-on-year to reach $2.455b. The data, which was released today by IAB Australia in its Online Advertising Expenditure Report (OAER) compiled by PricewaterhouseCoopers (PwC), also showed online expenditure for the second quarter of 2011 totalled $655 million – an increase of 19 percent year on year.

The full year results were powered by search and directories and online classifieds which both recorded 23 percent growth year on year to reach $1264m and $579m respectively for FY11. The general display market grew 12 percent reaching $612m for FY11.

Search and directories for the full year accounted for 51.5 percent of overall online advertising expenditure, with classified accounting for 23.6 percent and display advertising recording 24.9 percent. According to Paul Fisher, one of the standout areas for growth was the retail sector.

"Despite, or perhaps because of the many reported challenges facing the industry, the retail sector has shown strong growth in online advertising in the past year. Surprisingly though retail sits at just six percent of all display advertising. Online advertising offers retailers a highly measurable return on investment and so we believe there is enormous opportunity for the industry to more efficiently spend their advertising budgets online, especially in the lead up to Christmas." Mr Fisher also noted that FMCG online advertising is very disappointing when compared to international results.

"FMCG online advertising for the financial year was less than $34m and a mere 5.5 percent of display advertising, a drop of 0.5 percent on the preceding year. These results substantially lag the UK where in the same period the consumer packaged goods sector claimed 13 percent of all display advertising spend and the total spend by the FMCG sector grew 30 percent year on year.

"FMCG advertisers are missing exceptional opportunities to increase their TV reach and frequency through the addition of online video advertising, and also more efficiently allocate their print advertising expenditure across print and online," said Fisher.

"Government expenditure in online advertising also continues to disappoint. With increasingly hard to reach demographics and the many communications challenges faced by the Federal and State Governments, there needs to be an increased investment in interactive advertising," concluded Mr Fisher.

Video advertising continued its upwards trajectory, growing 53 percent year on year to reach almost $40m annually. Further growth is expected in this sector, with current expenditure representing just 6.5 percent of online display advertising in comparison to the 14 percent market share it holds in the US.

Maria Martin, PricewaterhouseCoopers partner, commented "The growth in video advertising is exciting as it offers a better experience for the digitally empowered consumer and improved customer engagement for the advertiser. Continued increases in video advertising will also leverage the expected growth in consumer connectivity, with the 2011 PwC Entertainment and Media forecast predicting by 2015 at least 95 percent broadband penetration and over 80 percent mobile penetration." The finance, computers and communication, and automotive industry sectors all dominated the general display advertising category, together accounting for 41.4 percent of the total general advertising expenditure. The automotive category was particularly strong over the past 12 months, comprising 11.57 percent of the General Display spending for the year.

Real Estate was the leading Category for Classifieds advertising expenditure in the 12 months ended 30 June 2011 followed by Recruitment then Automotive. This is the same as the prior year.
/Ends


About the Interactive Advertising Bureau
The Interactive Advertising Bureau (IAB) Limited is the peak trade association for online advertising in Australia. As one of over 32 IAB offices globally, and with a rapidly growing membership, IAB Australia's principal objective is to increase the share of advertising and marketing dollars that interactive media captures in the marketplace.

Incorporated in July 2010 by nine founding members - Fairfax Digital, Fox Interactive Media, News Digital Media, ninemsn, REA Group, Ten, Yahoo!7, and Sensis Media Smart - together with the Australian Interactive Media Industry Association (AIMIA), the IAB has four objectives:

•To develop, coordinate and promote industry standards and guidelines that make interactive advertising a simpler and more attractive medium for agencies, advertisers and marketers
•To prove and promote the effectiveness of interactive advertising to advertisers, agencies, marketers, and the press
•To be the primary advocate for the interactive marketing and advertising industry
•To expand the breadth and depth of IAB membership while increasing direct value to members

For further information about IAB Australia please visit: www.iabaustralia.com.au

For more editorial information please contact:
Pru Quinlan
Einsteinz Communications
T: (02) 8905 0995
E: pru@einsteinz.com.au