FMCG entries dominate 2011 IAB Awards Finalists List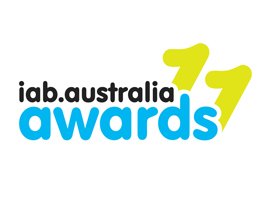 20 June 2011: DDB Sydney and Deepend and Nomad have dominated the finalist list for the 2011 IAB Australia Awards which was announced today with both agencies snaring four finalist spots each across the 12 categories. Droga5 has secured three finalist spots and a further 22 agencies have also been named by IAB Australia as contenders in the Awards which reward the most innovative and effective online advertising and marketing campaigns run in Australia over the last twelve months.
Interest in the Awards has continued to grow, with a record 218 entries being reviewed by a panel of more than 40 industry-respected judges. A total of 56 agencies submitted entries, representing over 100 brands.
FMCG has gone from strength to strength, with almost one quarter of the finalists hailing from the category, a result welcomed by IAB Australia CEO Paul Fisher.
"The last 12 months has seen both a rise in spending online and in entries to the Awards by the FMCG sector which shows that marketers are definitely seeing the multitude of benefits that can be offered by online campaigns.
"The quality of entries submitted this year was again outstanding and made the judging process very difficult. The finalists prove the Australian online advertising industry continues to shine with creative, well targeted campaigns and clearly documented results across a broad spectrum of categories," said Mr Fisher.
The winners will be announced at a ceremony in Sydney on Thursday 28 July 2011 at CarriageWorks.
Tickets are expected to sell out as in previous years and are now available for purchase from the Awards website – www.iabawards2011.com.au.
The entry judged as Best of Show Award will gain entry into the IAB's U.S. MIXX Awards in October 2011. Previous entries have achieved great success at the MIXX Awards with last year's Best of Show winner ZenithOptimedia being awarded a silver MIXX award in the Branded Content category for its work on the Lion Nathan '6 Beers of Separation' campaign while the 2010 Creative Showcase winner Visual Jazz won MIXX bronze in the Interactive Video/Online Commercial for the Jay Jay's "Dance Off 3D" campaign.

IAB Australia Awards 2011 Finalists (listed by entry number)
Category: Brand Awareness and Positioning
• Droga5 - Brew by Feel; Cascade Brewing Co
• DDB Sydney - Making Tracks; Tourism Australia
• Deepend and Nomad - Taronga Zoo iPhone app - Monkey Mayhem; Taronga Zoo
• Soap Creative -World's Biggest Pacman; Microsoft & Namco Bandai Games

Category: Direct Response and Lead Generation
• George Patterson Y&R - Picnic - It's no Picnic; Picnic
• Initiative - Oxfam Unwrapped 2010; Oxfam
• Pusher - Live the Goodlife; Goodlife
• Deepend - Lick-A-Prize 2010/11; Unilever - Streets Paddlepop

Category: Product Launch
• BCM - The Art of Shaping; Triumph International
• The White Agency - The Commonwealth Bank Property Guide; Commonwealth Bank of Australia
• Maxus - All New Suzuki Swift Launch; Suzuki

Category: Brand Loyalty and Retention
• Starcom -Whiskas Pledge; Mars Petcare
• TheFARM Digital - Neutrogena One Less Stress; Johnson & Johnson Pacific
• Profero - Feed A Friend; Pizza Hut

Category: Brand Destination Site
• George Patterson Y&R - Canvas2Kickass; Just Car Insurance
• DDB Sydney - There's Nothing Like Australia; Tourism Australia
• Deepend and Nomad- Taronga Zoo iPhone app - Monkey Mayhem; Taronga Zoo
• The White Agency - The Commonwealth Bank Property Guide; Commonwealth Bank of Australia

Category: Cross-Platform Integration
• Droga5 and MediaCom- VB Profile Interventions; Victoria Bitter
• Publicis Mojo, Melbourne - MAXIBON Man-Chew; Nestle Peters Ice Cream
• Visual Jazz - Under a Rising Sun; Defence Force Recruiting

Category: Branded Content
• Droga5 - Brewer's Nose; Cascade Brewing Co
• 303 Group - Enjoy The Ride; Office of Road Safety
• DDB Sydney -Making Tracks; Tourism Australia
• Deepend and Nomad - Taronga Zoo iPhone app - Monkey Mayhem; Taronga Zoo

Category: Search Marketing (Paid Search)
• MediaCom Australia - Turning Dell's cookies into sales; Dell Australia
• FirstClick Consulting - oo.com.au ROI Rescue; oo.com.au
• Maxus - In Our Nature Acquisition; Shangri-La Hotels and Resorts

Category: Search Marketing (Organic Search)
• MediaCom Australia – Injecting; Procter & Gamble Metamucil
• First Rate - The Power of Longtail; Focus Property
• Outrider Australia - iiNet SEO and Social Media Integration; iiNet

Category: Social Media Marketing:
• MEC - Intelligence that wins wars; Activision
• Host - The Coke Machine Fairy; The Coca-Cola Company
• Pusher - Cheezels 'The Big Cheeze'; Snackbrands
• DDB Sydney - Making Tracks; Tourism Australia

Category: Rich Media and Digital Video:
• 303 Group – Totems; Perth International Arts Festival
• Initiative - The Optima Experience; Kia Motors Australia
• The White Agency - The Commonwealth Bank Property Guide; Commonwealth Bank of Australia

Category: Not-for-Profit / Public Service:
• Austereo - U20 Radio; Federal Government
• Naked Communications – SpeedKills; Transport Accident Commission
• Initiative - Oxfam Unwrapped 2010; Oxfam
• Deepend and Nomad- Taronga Zoo iPhone app - Monkey Mayhem; Taronga Zoo
Notes to Editor
Images from each of the Finalists' campaigns are available. Please contact Einsteinz Communications for more details.

About the Interactive Advertising Bureau
The Interactive Advertising Bureau (IAB) Limited is the peak trade association for online advertising in Australia. As one of over 32 IAB offices globally, and with a rapidly growing membership, IAB Australia's principal objective is to increase the share of advertising and marketing dollars that interactive media captures in the marketplace.

Incorporated in July 2010 by nine founding members - Fairfax Digital, Fox Interactive Media, News Digital Media, ninemsn, REA Group, Ten, Yahoo!7, and Sensis Media Smart - together with the Australian Interactive Media Industry Association (AIMIA), the IAB has four objectives:

• To develop, coordinate and promote industry standards and guidelines that make interactive advertising a simpler and more attractive medium for agencies, advertisers and marketers
• To prove and promote the effectiveness of interactive advertising to advertisers, agencies, marketers, and the press
• To be the primary advocate for the interactive marketing and advertising industry
• To expand the breadth and depth of IAB membership while increasing direct value to members

For further information about IAB Australia please visit: www.iabaustralia.com.au

For more editorial information please contact:
Pru Quinlan Einsteinz Communications
T: (02) 8905 0995
E: pru@einsteinz.com.au