IAB Awards Finalists Announced
Published on
Monday, 19 July 2010
in the category
IAB News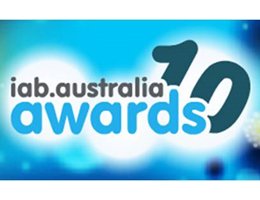 17 June 2010: IAB Australia today announced the 2010 IAB Australia Awards finalists, noting a significant increase in the number of agencies and brands submitting entries, as well as an overall increase in entry numbers. Twenty one agencies were selected as finalists across the Awards' 11 categories, with Mediacom and Publicis Mojo-Melbourne securing the lion's share, taking six and four nominations respectively.
In total, 182 entries were submitted and reviewed by a panel of more than 60 industry-respected judges who were looking for the most innovative and effective online advertising and marketing campaigns run in Australia over the last twelve months. These entries were submitted by 47 agencies, representing 91 organisations and over 130 brands.
This year's awards has also seen a dramatic increase in entries for the brand related categories, highlighting the strong shift towards brand advertising online with FMCG and finance industries in particular.
The winners will be announced at a ceremony in Sydney on Thursday 22 July 2010 at the Hordern Pavilion. Tickets are expected to sell out as in previous years and are now available for purchase from the Awards website – www.iabawards.com.au
"The finalists for the 2010 IAB Australia awards clearly demonstrate the growth of online advertising across a broad range of industry sectors," said Paul Fisher, IAB Australia's CEO. "Once again the FMCG sector has dominated the finalists list, highlighting both the exceptional quality and effectiveness of well executed online strategies and campaigns and also the disparity between this quality and the investment by the FMCG sector in online advertising, accounting for a mere five per cent of the $500m annual general display category. I'm hopeful that the Awards will continue to showcase to FMCG marketers the incredible benefits that online can bring to their marketing campaigns."
According to Mr Fisher the 2010 Awards judges have lauded the entries as the highest quality work they have ever seen submitted for online campaigns.
"Creative campaigns with well targeted execution and clearly documented results created a smooth judging process for all concerned. This general improvement, combined with the sheer number of entries demonstrates the growing commitment by advertisers and their agencies to investing their valuable marketing budgets where they get the best results – online," said Mr Fisher.
The entry judged as Best of Show Award will gain entry into the IAB's U.S. MIXX Awards in September 2010. Previous entries have achieved great success at the MIXX Awards with last year's entry winning the coveted Best in Show in New York. In addition to this, the Creative Showcase quarterly winners will vie for Creative Showcase Grand Prix Award also to be announced at this year's IAB Awards.
IAB Australia Awards 2010 Finalists (listed by entry number)

Category: Brand Awareness and Positioning
• Droga5 - 4320LA & 4320SYD; V Australia
• Mediacom - Alienware Clan Challenge; Dell
• Ikon Communications - Commonwealth Bank & Domain Partnership; Commonwealth Bank of Australia

Category: Direct Response and Lead Generation
• WHYBIN/TBWA/TEQUILA - Take the Wheel; Nissan Australia
• Ikon Communications - Commonwealth Bank Continuous Online Marketing Programme; Commonwealth Bank of Australia
• Mediacom - SMB Campaign Nov09-Jan10; Dell

Category: Product Launch
• Emitch - iPhone Application Launch; Domino's Pizza
• Mediacom - Avril Lavigne Black Star; Procter & Gamble
• OMD Australia - Brave Wave!; Neutrogena Wave
• ZenithOptimedia - 5 Seeds; Lion Nathan

Category: Brand Loyalty and Retention
• Publicis Mojo - Members' Lounge; Virgin Mobile
• Bullseye - B Your Best - The Wellbeing Revolution; Blackmores Limited
• BMF - The Hit List; Commonwealth Bank of Australia

Category: Brand Destination Site
• Colman Rasic - You Know Who You Are; Premium Beverages – Coopers
• Publicis Mojo – Melbourne - The Adventures of Freddo; Cadbury
• Leo Burnett - Canon EOS Photochains; Canon

Category: Cross-Platform Integration
• WHYBIN/TBWA/TEQUILA -Take the Wheel; Nissan Australia
• Publicis Mojo – Melbourne - The Art of Walking; Tourism Victoria
• Mediacom - Alienware Clan Challenge; Dell

Category: Branded Content
• ZenithOptimedia - 6 Beers of Separation; Lion Nathan
• Publicis Mojo – Melbourne - The Art of Walking; Tourism Victoria
• Publicis Mojo – Melbourne - The Adventures of Freddo; Cadbury

Category: Search Marketing
• Dgm - Allianz Search Campaign; Allianz
• e-channel Online - Flight Centre Paid Search Marketing Campaign; Flight Centre Limited
• Experian Hitwise - SCTI Online Offline Integration; Experian Hitwise

Category: Social Media Marketing
• Mediacom - Spring Racing Carnival; Yellowglen
• Mediacom - Pringles King Can; Procter & Gamble
• Leo Burnett - Canon EOS Photochains; Canon

Category: Rich Media and Digital Video
• Longtail Communications - Zoom; Dale Alcock Homes
• Mindshare – Sydney - Land Rover Defender 90 - Content Distribution; Land Rover
• OMD Australia - $1 Board Game; McDonalds

Category: Not-for-Profit / Public Service
• FNUKY – Censordyne; GetUp!
• Starcom - Pedigree Dog Adoption; Mars Petcare
• 303 - Jesus. All About Life - The Bible Society, NSW


/Ends


About the Interactive Advertising Bureau
The Interactive Advertising Bureau (IAB) is the peak trade association for online advertising in Australia. As one of over 25 IAB offices globally, and with a rapidly growing membership, IAB Australia's principal objective is to increase the share of advertising and marketing dollars that interactive media captures in the marketplace.

Officially launched in October 2005 by Australia's six major online publishers - News Digital Media, Fairfax Digital, ninemsn, Yahoo!7, Google and Sensis Media Smart - together with the Australian Interactive Media Industry Association (AIMIA), the IAB has four objectives:
• To develop, coordinate and promote industry standards and guidelines that make interactive advertising a simpler and more attractive medium for agencies, advertisers and marketers
• To prove and promote the effectiveness of interactive advertising to advertisers, agencies, marketers, and the press
• To be the primary advocate for the interactive marketing and advertising industry
• To expand the breadth and depth of IAB membership while increasing direct value to members
For further information about IAB Australia please visit: www.iabaustralia.com.au
For more editorial information please contact:
Pru Quinlan or Ashleigh Favaloro
Einsteinz Communications
T: (02) 8905 0995
E: pru@einsteinz.com.au
E: ashleigh@einsteinz.com.au