News & Updates
Latest News
You have 0 articles to compare. Do you want to see compare view now?
Compare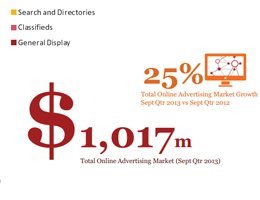 Online advertising has continued its strong growth, exceeding $1bn in the September 2013 quarter while recording 25 percent growth year on year from September 2012 and 4.6 percent on the prior quarter according to IAB Australia's Online Advertising Expenditure Report.
Published on
Wednesday, 25 September 2013
in the category
Latest News
Australian agencies have scored eight Golds at the IAB MIXX Awards, including Leo Burnett Sydney which took out Best in Show for its Coca-Cola 'Small World Machines' work. The IAB Australia Best in Show award winner, Defence Force Recruiting 'Mobile Medic' by George Patterson Y&R Melbourne and VML, won Gold in the Mobile Advertising and Branded Mobile Application categories.
Published on
Thursday, 19 September 2013
in the category
Latest News
IAB Australia's Measurement and Research Council has today issued its updated Digital Brand Ad Effectiveness Research Guidelines. The Guidelines, which were first published in 2009, outline some of the key aspects for consideration when planning and setting up online brand advertising effectiveness research. Industry bodies including AANA and MFA have contributed to the updated Guidelines, along with a number of major vendors.