AdNear Intelligence: Affluent travel the most to attend sports events in Australia, with a preference for Australian Open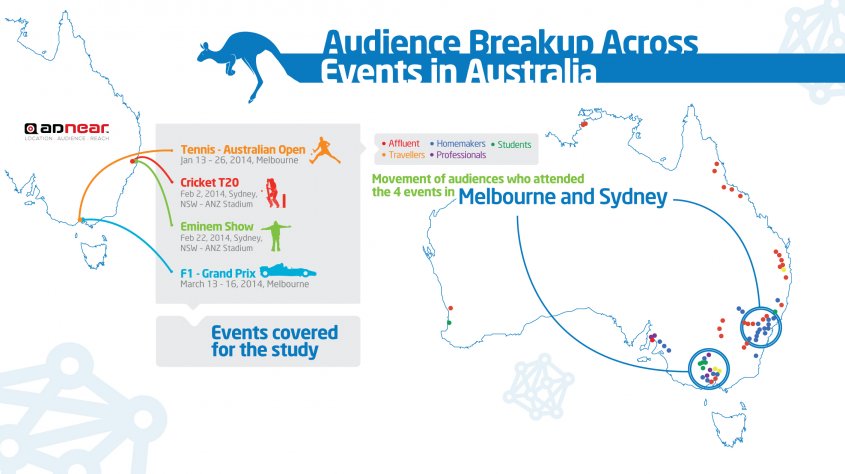 Australian Open saw 5x increase in footfall during the event, the highest amongst all other events, followed by the Eminem Concert which saw 4.5x footfall during the event. While the foot traffic increase in Australian Open came from males, the increase in the Eminem concert came from females that saw a 7x jump.
Shobhit Shukla Vice President, Sales and Partnerships, AdNear commented, "In our study we see clear preference for the Australian Open amongst men and for the Eminem concert amongst women last year. We analysed over 100,000 users through our proprietary technology, to understand the footfall trends and mobile audience behavior during the events conducted last year. The study provides powerful insights on event preferences amongst various audiences, and can help marketers reach out to their target audience in the offline & digital world."
While F1 was the top choice for travellers, affluent and professionals were keen on the Australian Open. The Eminem concert was popular amongst students & homemakers. Users aged between 25-36 years preferred the T20 cricket match, the ones above 36 years of age preferred the F1 Grand Prix while the younger age group between 16-25 years preferred the Eminem music concert. While the iOS users were seen primarily at the Australian Open & F1 Grand Prix, the android users were found at the T20 and the Eminem concert.
AdNear can get location of devices without GPS or operator dependence using its proprietary technology, and this location data is intelligently analysed to create mobile audiences. Brands like Woolworths, Coles, Renault, Telstra, McDonald's, Vodafone & Ikea are already using AdNear's mobile solutions in Australia to know their consumers better and reach out to them at the most effective time and place.
The full report can be found here: https://adnear.com/pdf/audience-preferences-for-events-in-australia.pdf
About AdNear:
AdNear is a leading location intelligence company that leverages historical location and context to power data driven marketing for advertisers. The company's data platform is built on top of proprietary technology, giving it the strength of location awareness without the need for GPS or operator assistance.
Founded in 2012, AdNear is now headquartered in Singapore with a presence across Australia, South East Asia, Japan and India. To date, the company has reached a massive 530+ million device users and works with marquee brands such as P&G, Woolworths, Audi, Unilever, BMW, Adidas, Ford, Samsung, and IKEA. AdNear is backed by investments from leading venture capitalists Sequoia Capital, Canaan Partners, Telstra Ventures & Global Brain.
Related Information:
Disciplines

Insights

Markets

Year