IAB Australia recommends the mass adoption of ads.txt by local publishers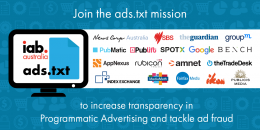 The mission of the ads.txt project is simple: To increase transparency in the programmatic advertising ecosystem. Ads.txt stands for Authorised Digital Sellers and is a simple, flexible and secure method that publishers and authorised partners can use to publicly declare the companies they have sanctioned to sell their digital inventory.
IAB Australia supports local publishers adopting this solution as a method of helping to eliminate the ability of criminal entities profiting from counterfeit inventory in the open Australian digital advertising ecosystem.