Data Label: Adopting data transparency standards for digital marketing in Australia
Marketers are increasingly making media and marketing spend decisions based on a wide range of audience data, but there are few tools that enable data buyers to understand 'what's inside' the various data segments they buy and provide a consistent labeling of those details.
At a dedicated panel session at our recent IAB Australia State of Data event hosted by the IAB Data Council earlier this month, a representative group discussed the issues related to data transparency and announced a local initiative enabled through collaboration with IAB Tech Lab to help provide better education, genuine consistency and enable transparency to the data marketplace.
The Data Label structure is based upon global Data Transparency Standards, released by IAB Tech Lab - which will be managed via www.dataLabel.org.
This initiative allows the market to know exactly where specific data comes from, how it was collected and organised, if it was manipulated or modeled, and what rules established the data within any particular audience segment.
The IAB Australia Data Council has now launched local testing of the Data Label utilising the IAB Tech Lab's Data Transparency Standards and is seeking further admissions of interest from a select number of local sellers and buyers of data to participate in this test period. The initial participants include local Data Council members such as Quantium, LiveRamp and Verizon Media – and once this active testing phase is complete, DataLabel.org will be made more widely available here in Australia with local consultative support from both IAB Australia and IAB Tech Lab.


The data market is extremely complex, it's rapid rate of growth combined with a lack of local legislation makes it impossible to get a consistent read on the construct of any single data set on factors such as origin and ownership. When our role as an agency is to assess the value of data and provide our clients with transactional transparency, we have had no choice until now but to define our own governance standards and create our own processes for data auditing. The Data Label initiative provides consistency at scale, setting a new Australian standard for the data market, removing the friction from transparency and value conversations. Ultimately helping prepare the market for the impending legislative changes."
- Sian Whitnall, Chief Digital Officer, OMD Australia


The intention is to establish a set of standardised minimum disclosures and transparency criteria for any company that collects audience data for targeting, personalisation, or measurement of digital advertising - and ultimately to encourage more education and informed data usage.


"This initiative provides data transparency standards for digital marketing in Australia. The ever-increasing amount of data available means that its efficacy is based on it being transparent, accurate, and of a high quality. At LiveRamp, we believe that with the ownership of data comes the responsibility of good data stewardship. Data privacy and ethics will become the very tenet of future-proofing any business and will be emphasised by data providers even more than before. This is a concerted effort and commitment to apply data ethics at all levels within an organisation. It must be designed into everything a business does - from a legal perspective, an internal employee management perspective and most importantly, from a customer perspective."
- Frederic Jouve, MD Asia Pacific, LiveRamp


The simple approach is very similar to how manufacturers are required to provide very clear and easily understood ingredients labels on packaged foods. The IAB Tech Lab standards demand that data providers submit and keep regularly updated minimum set of details that will inform segment quality, addressing details such as type, source, recency, provenance, and segmentation criteria.


"Much like a common food nutrition label, the IAB Data Label is a positive step forward in helping marketers understand what exactly has gone into it their paid audience targeting - providing transparency into the who, what, how and where. This new standard is a focus for Verizon Media, and we are thrilled to be participating in the Data Label initiative. We've submitted a transparent breakdown of our first party audiences and are working with our 2nd and 3rd party data partners to reach the same outcome."
- Dan Richardson, Head of Data, ANZ, Verizon Media

For an example of a data label please see below - and for more info on how to get involved in the local initiative please contact Jonas Jaanimagi directly at jonas@iabaustralia.com.au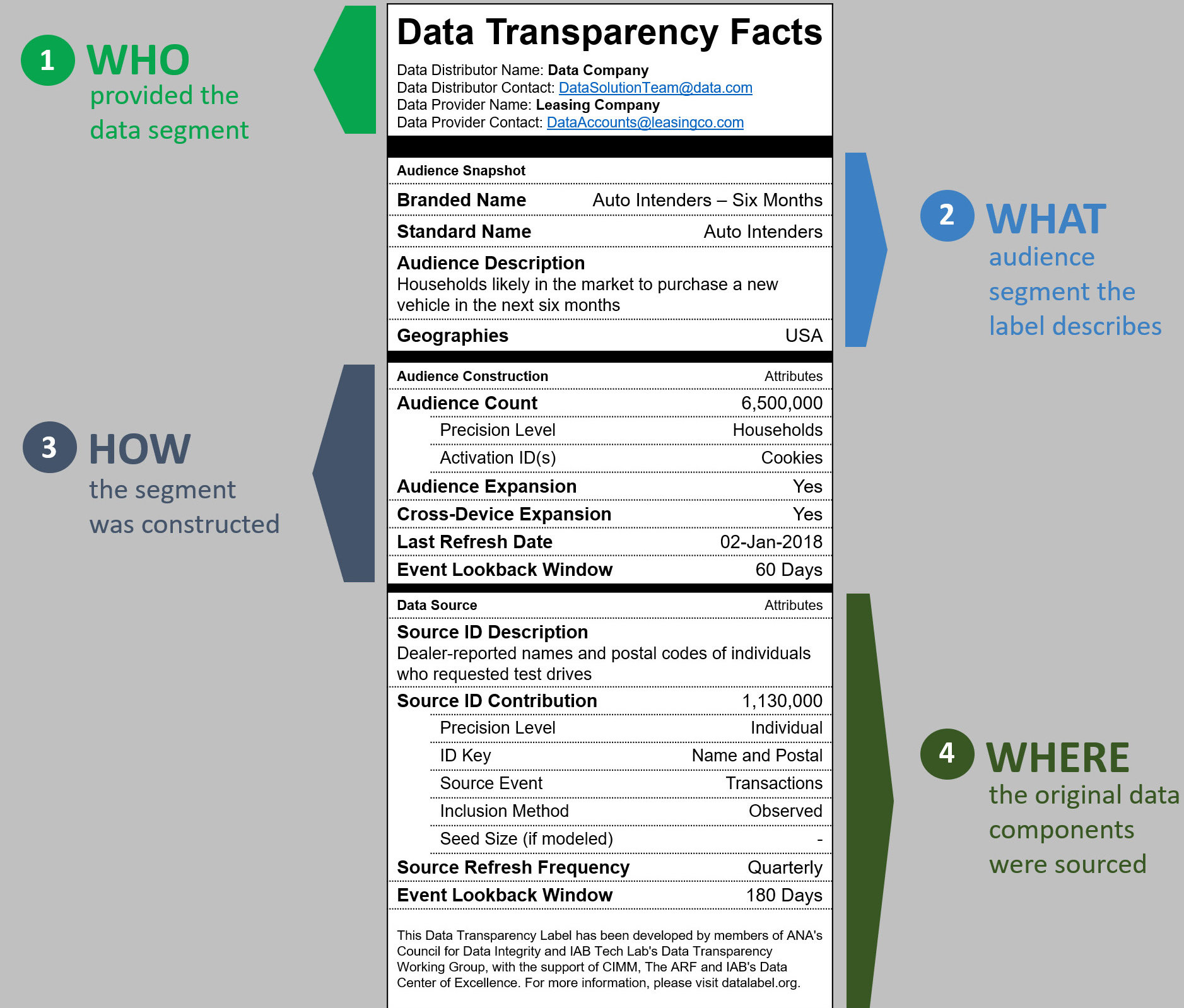 Download this diagram below.
Related Information:
Disciplines

Insights

Region

Year