Microsoft Advertising: New Ad Formats...The Science Bit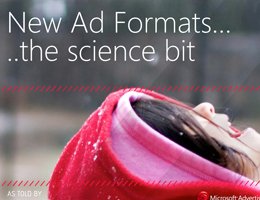 Microsoft explores whether premium formats are more effective than standard formats and the ways to evaluate this.
Marketers and planners want to know how they compare to the current 'go-to' standard formats for branding at scale such as the MPU. Why? Because nowadays it is all about ROI not risk. The new formats are more expensive to buy, so the market needs evidence to justify that price premium and discover their true value in brand storytelling.
Source: Microsoft Advertising http://advertising.microsoft.com/
Related Information:
Disciplines

Insights

Region

Year