FY 2019 Digital Media Revenue: Presentation Deck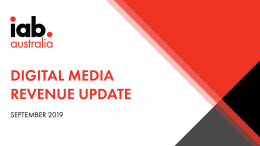 Australian brands and agencies continue to grow their investment in digital advertising with total spend for the 2019 financial year increasing by 7.1% year-on-year to reach $9 billion, up from $8.5 billion in 2018.
IAB Australia members can download this handy presentation deck, outlining the state of FY19 market, for their presentations and reports. The deck is available in PDF, Powerpoint and PNG (in the zipped file) formats.
Related Information:
Disciplines

Insights

Region

Year