IAB Audio Buyers Webinar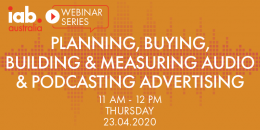 This hour long webinar provides invaluable information for media buyers, marketers & media people on how to effectively use streaming audio and podcast advertising. You will hear from experts on audio ad products, targeting, context and creative as well as get an update on current audio consumption trends.
Presenters:
Gai Le Roy, CEO, IAB Australia
Jonathan Mandel, Head of Digital Commercia, SCA
Ralph van Dijk, CEO, Eardrum
Liam Hickey, Head of Automation, Spotify
Download the Presentation Deck and watch the Video below.
Related Information:
Disciplines

Insights

Region

Year